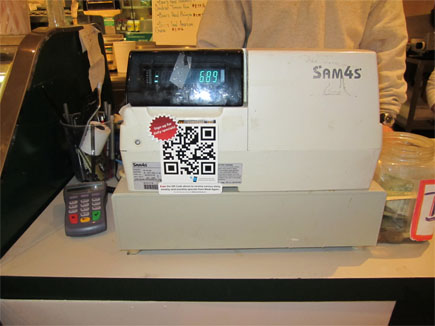 When it comes to business, how do you become "the best"? Do you need to have a better product than your competitors?
Yes, that certainly plays a tremendous role. But in today's world, we can never rest on our laurels. We must always look for new ways to serve our customers better and to keep them coming back for more.
Meat Again is family-owned butcher shop in Massachusetts. They are certainly known as having incredible selection of mouth-watering meats (and other related products that are just as delicious). As their popularity has grown, so have the lines during peak business hours.
To help better serve their customers (and capitalize on their "captive" audience during busy times), they have put QR Codes inside their shops. (There are two locations – one in North Billerica, and the other in Westford). As you can see in the picture above, there is a large QR Code in front of the register.
While people are shopping around inside the store, or waiting for their order to be completed, they have the opportunity to engage with Meat Again by scanning the QR Code with their smartphones. The QR Code directs people to a web site where they can sign up for Meat Again's mailing list.
The growth in the number of people that own smartphones continues to rise rapidly. Putting QR Codes on printed material – on signs, flyers, mailers, banners, and more – enables businesses to reach people that have those mobile devices. For the consumer, a QR Code makes it easy for them to receive news alerts, specials, and other offers from their favorite butcher. It also helps them to become engaged if they are waiting!
For Meat Again, QR Codes certainly help to enhance the customer experience that they provide… and of course, they are also helping Meat Again to build their customer database for future marketing efforts.  Meat Again is using our QReate & Track system to measure how many people have scanned the codes. They are able to watch how many people are scanning the codes, and at which hours.

If you live near one of their two locations, we would like to encourage you to swing by! We highly recommend the  Hawaiian Luau steak tips — and while you're waiting for your order, take out your phone and scan the QR Code!