[Cheesy Joke Alert] Well, if there's one thing hotter than the 90+ degree temperatures on the East Coast this week, it's this: QR Codes!
QR Codes have continued to make their way onto printed materials. We are seeing them quite frequently throughout magazines, on business cards, at conferences & trade shows, on clothing, on signs & banners, and more.
As companies have continued to create and track QR Codes, we've recognized that we needed to make a few enhancements to our QReate & Track system to help better serve our customers. For instance, with companies creating QR Codes on a daily basis, we saw the need to give users greater control over how their QR Codes were organized.
We are happy to announce that we will soon be rolling out a new enhancement release that will help our customers in this regard.
Here are some of the key features of this upcoming enhancement release:
Ability to create and manage Folders
Ability to assign new QR Codes and your existing QR Codes to multiple folders
Ability to access QR Codes via the Collapsable/Expandable folders (as opposed to a long list of each code on the left-navigation menu)
Here is a screenshot of how the QReate & Track interface will look with these features: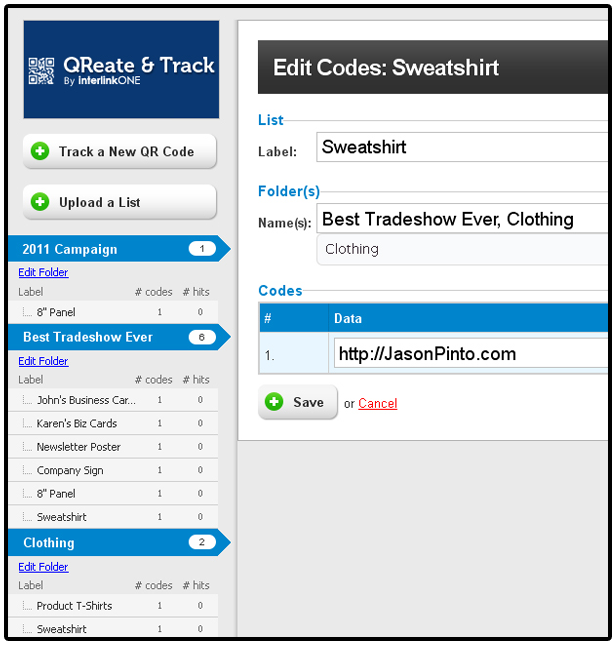 (In the screenshot above, "2011 Campaign", "Best Tradeshow Ever", and "Clothing" are the folders. Their corresponding QR Codes are displayed below them.).
These new features should absolutely provide QReate & Track users with a cleaner navigation as they use the system. Folders should also make it easier for users to find QR Codes that were created in the past — whether it's to edit them or to view their reports.
We plan on releasing these features early next week.