When it comes to QR Codes, creating them is really the easy part. The hard work often comes with designing an appropriate mobile experience for the person that scans the QR Code.
But along with that, companies that provide the QR Codes are looking for value in return, too. One way to do that is to try to learn more about the person that scanned the code and is visiting your mobile website.
We are happy to share news that we (interlinkONE) have released a new feature to the iFlyMobi application to help companies do this. Our latest enhancements allows users to easily build data-collection Forms in their mobile websites.
Our Forms feature can be used for a number of purposes. Here are a few examples:
"Contact Us" pages
"Sign-Up" pages to receive newsletters, alerts, etc.
Free Event Registration
Customer Satisfaction Surveys
Polls
How To Use This Feature
When logged into your iFlyMobi account, you will now see two new buttons to the iFlyMobi application:
"My Forms"
"Create a new Form"
"My Forms" can be found alongside your "My Cards" and "My Websites" buttons, where you can edit existing content. "Create a new Form" will be found in the left-navigation menu along with the other buttons for creating new content.
When building a new Form, iFlyMobi allows you to define the basic details needed to get your Form up and running. For example, you are required to assign the Form a Title, enter an E-Mail Address to be notified when someone responds to the Form, and enter a Confirmation message to be displayed to people that respond.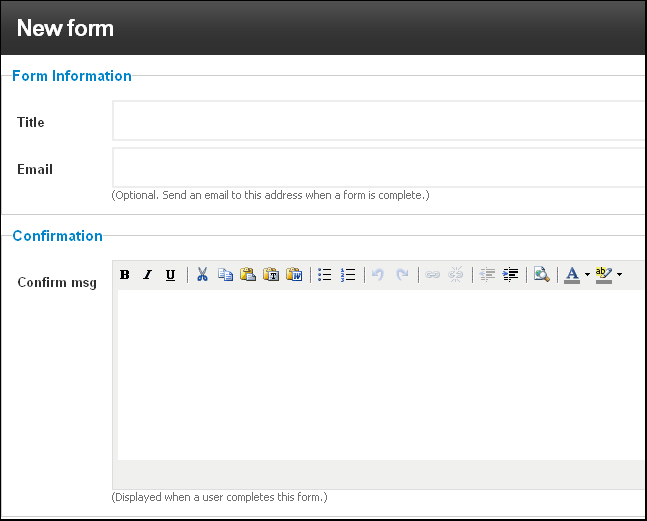 Then, you'll have the opportunity to add "Questions" to your Form.
The Questions section allows you to create fields that will gather feedback from the people that visit your mobile website. This feedback might be collected via single- or multiple-choice questions and also open-ended questions. But the Questions section can also be used to ask someone for contact information, such as their Name, Email Address, Mobile Phone #, and more.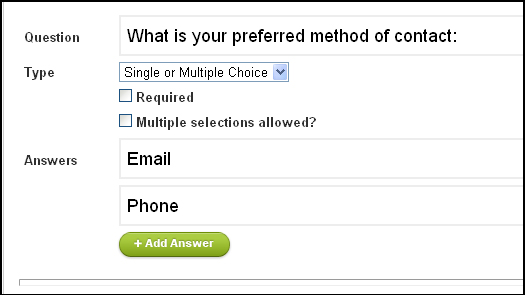 Once you've created your Form, the next step is to assign it to a page inside of one of your mobile websites. Simply head to the "My Websites" section and choose the appropriate website. Then, click the Page that you'd like to add the Form to. Simply select which Form you'd like to include, based on the Title that you assigned to it, from the new dropdown.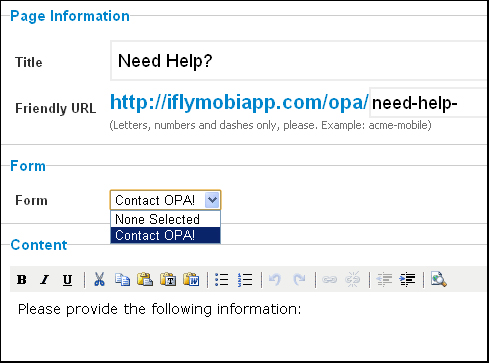 Next time you view that page, the iFlyMobi application will automatically draw the Form on that mobile website.
We hope that you enjoy using this new feature. Of course, we'd love to hear your feedback! If you have any comments or suggestions, please let us know.