We are happy to announce that we've released a new enhancement to the iFlyMobi application that will give customers greater control over the mobile websites that they build.
When creating or editing a mobile website within iFlyMobi, users have had the opportunity to choose from a variety of templates as well as pre-defined color schemes. But to provide greater control, our latest enhancement allows users to choose their own custom colors for the Header/Button color and Background color.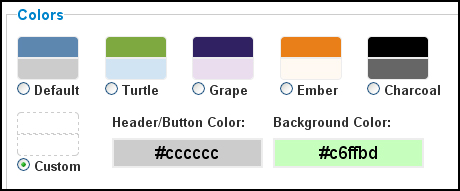 The screenshot above is from the "Edit Website" page within iFlyMobi. In the Colors section, we've added a new custom option. From there, users can either enter in the specific color value that they would  like to use (i.e. "#CCCCCC") or select a color via the Color Palette window.
We hope that you find this feature useful! We know that some customers have enjoyed using the pre-defined color schemes, and we recently released 3 new options for that. But we think that this will help companies that have specific requirements for maintaining branding on the mobile websites that they create.
P.S. If you are looking to build mobile websites, please give iFlyMobi a try! Sign up today for a 14-day free trial >>